Kyle Deighan
PGA of Canada Class A, Teaching Professional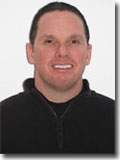 Whether you're trying to work out a few flaws in your swing or you're looking to give your game a complete overhaul, private lessons with Kyle Deighan is a great place to start. Kyle has been a member of the CPGA for over 20 years and a Class A member since 1995. Kyle has worked in all aspects of the golf industry and been a teaching professional at the Galt Country Club, Paris Grand Golf Club, Whistle Bear Golf Performance Center and Wedges 'N Woods Golf Academy. Using modern teaching techniques that include video analysis, Kyle's teaching methods will help you find the swing and the mental approach for success on the course.
Prices
Video Swing Analysis
15 Minutes – $25.00
Private Golf Lessons
50 minutes – $100.00
Series of 3 – $270.00
Series of 5 – $450.00
Semi Private (Group of 2)
50 minutes – $55.00
Series of 4 – $200.00
On Course Playing Lesson
9 Holes – $175.00
18 Holes – $275.00
Junior Golf Lessons
Juniors receive 25% discount on all private and semi private lessons.
Call Kyle Deighan directly at 519-574-7474
See our Clinic Page for scheduled clinics.